Filmography

I swear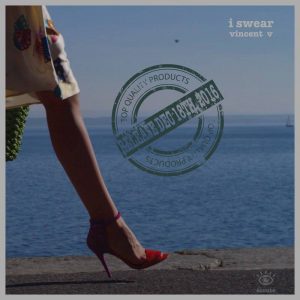 Music Video | Pierre-Henri Gibert 2016
Lead
Vincent V music video. An amazing and powerful short film about the environment. The story is set in a black and white world in the near future with hairless human beings. Nature will give them a new lease of life.
La baigneuse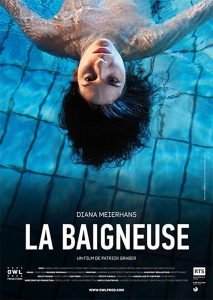 Short film | Patrick Graber 2015
Role: Christelle
Leila who works in thermal baths is used to have her daily nocturnal swim when everybody is gone. Because she's been ousted from her job by a jealous colleague, she starts working with a team of street fundraisers but she misses something vital…
Bob et Les Sex Pistaches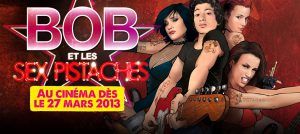 Feature film | Yves Matthey 2013
Role: Sophie, the bass player
In the midst of his adolescent angst, Bob, son of an aging punk, starts his own band and dreams of becoming one of the world's biggest rock stars. Surrounded by guitars, girls and his close friends, success finally comes to Bob, but a life on the road juggling travel, gigs and girls, sends him into a spin. On the verge a nervous breakdown, the not-so-rock-and-roll Eurovision song contest come calling, trying to entice Bob to enroll.
Myrtille
Opération Casablanca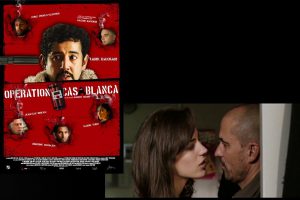 Feature film | Laurent Nègre 2010
Role: Marie-Eve Bugnon, the journalist
Saadi, a young illegal immigrant is unfairly fired from his job after once again protesting against his boss' abusive behavior. While trying to sneak into France through a forest, he is caught in the middle of a hostage situation. A few minutes later, the police mistake him for one of the criminals that has just kidnapped the UN's Secretary-General and immediately arrest him. Caught in the middle of a terrorist plot, he must now prove his innocence.
Series
26 Minutes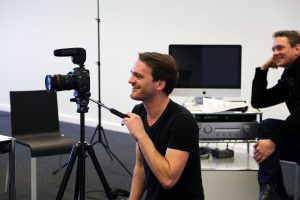 Comical news magazine show | Vincent Kucholl and Vincent Veillon
from 2015 to 2017
Rôles: Philippine Laugier, Mélissa Moret and Mme Gaudiello
A weekly Swiss comical news magazine show presented by Vincent Kucholl and Vincent Veillon and broadcast every Saturday at 20:10 on RTSun. Parodying current affairs in Switzerland, the show goes over the previous week's highlights, including fake news coverage and reports.
Ladies Happy Hour
Web series | Monica De Almeida and Marc Décosterd
2017 – season 2 | 2016 – season 1
Role: Klara
A group of five thirty-something single ladies meet up for drinks every Thursday night and recount tales of their love "mis-adventures".
Break Ups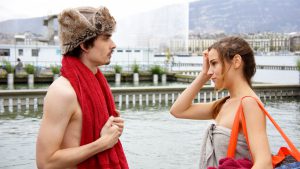 Web series | Ted Tremper 2014
Role: Catherine
Ten couples, ten breakups. A bittersweet web series released on february 14th for Valentine's day.
En direct de notre passé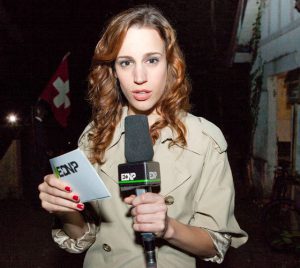 Tv series | Noël Tortajada
2012 – season 2 | 2010 – season 1
Role: Mélissa Bellanoni
This series uses a mixture of both humor and information within the structural conventions of a modern television news program. Each episode focuses on a major Swiss historical event but with an unusual twist: each correspondent can travel into the past to the date they choose.
Three Sisters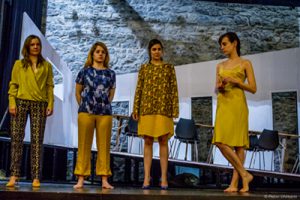 Théâtre Pitoëff | Eric Devanthéry 2016
Role: Natasha
Between absurd conversations and eminent philosophical debate, failed weddings and desperate lovers, Anton Chekhov's Three Sisters broaches the passing of time and dreams lost, the importance of working and being independent as well as the themes of boredom and love.
The Ring of the Nibelung
The Salzburger Marionettentheater | Carl Philip Von Maldeghem
2015 – Bruxelles | 2012 – Paris
Roles: the Narrator, a Giant, Gutrune + Sieglinde's, Brünnhilde's and Mime's voice
The Salzburger Marionettentheater managed the crazy challenge of revisiting Wagner's opera, The Ring of the Nibelung, in a two and a half hour puppet show. With convertible car races, characters dressed in jeans, trainers and cowboy outfits, as well as two actors seen conversing with the puppets, this is a utterly modern take on Wagner's masterpiece.
Coma Story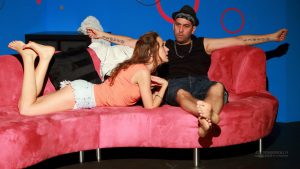 Théâtre du Caveau | Tony Romaniello 2012
Role: Prune
While his housemates are getting ready for the live transmission, Steve jumps into an unexpectedly empty swimming pool and falls into a coma. In order to spare him any post-traumatic stress when he wakes up two years later, Thomas, Prune, Dan and Flo, try to recreate the 'Big Brother' house, acting as if nothing has happened.
The Shoemaker's Prodigious Wife
Compagnie des gens d'ici | Nathalie Texier 2009-2010
Role: L'enfant
A young shoemaker, free as a dancing poem…Her old shoemaker's husband, afraid of scandal… A village, where old zealots live alongside young seducers…In a world where reality does not live up to the dream, this is a tale about freedom, about resistance against the constraints of society.
Staging
Thé à la menthe ou t'es citron?
Théâtre Montreux-Riviera | 2016
The author, Patrick Haudecoeur, won a Moliere* for the best comedy in 2011.
Adaptation of the Parisian staging with Swiss-French actors.
A troupe of actors are rehearsing a bedroom farce with a cuckold, a lover in a closet and the usual misunderstandings thrown into the mix. Two days before the Premiere, everybody is wide of the mark: the lighting engineer, the director, actors, the young male lead, …
*Theater French Award
Générations!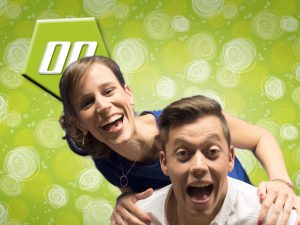 Radio Télévision Suisse | Julian Nicole-Kay
from 2014 to 2017
Team 2000 captain
This big festive show, filled with humor and nostalgia, is back on RTSun. A look joyfully back at the last five decades, accompanied by ambassadors from each generation, it's a show full of music, quizzes and dance. Our team captains Bernard Pichon (60's), Maria Mettral (70's), Jean-Luc Barbezat (80's), Khany Hamdaoui (90's) and Marie-Eve Musy (00's) fight for their generation with the help of Swiss personalities. A show to take you back in time.
Les Imbattables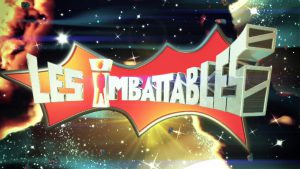 Radio Télévision Suisse | Alain Hugi
from 2012 to 2013
Host of the game
A game show situated in a virtual universe, inhabited with the viewers' avatars. 40 immersive and interactive original episodes.
Teletoon
La Maison du Grand Défitoon, Le Grand Défitoon et Yapa+Toon
from 2007 to 2013
Host
For six years, Marie-Eve Musy presented shows on Canal+ group's main children's channel, alongside firstly, Jérémie Ganneval and then Sebastien Giray. This included shoots from all four corners of France, comedy duets, improvisations, games and kids' interviews, An experience which was both rich and intense.
Lire-Délire
Radio Téléviion Suisse | 2012
Jury member
In this TV show, we meet young students, each of them talking about one of the books nominated for the RTS Littérature Ados award. By getting kids interested in reading, this project also gives them a place to express their opinion on topics they are interested in.
Events
The Geneva International Film Festival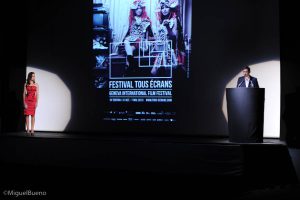 The 19th edition | 2013
Masters of ceremony (opening and closing ceremonies)
Geneva International Film Festival has been exploring the relationship between cinema, television, and new forms of digital creation since 1995, with a programme based on one simple idea: Authors are at the heart of audio-visual creation and their viewpoints are expressed through our screens.